Blog Menu
NAMM Fly-In: Advocating for Music Education in Washington, D.C.
June 6, 2018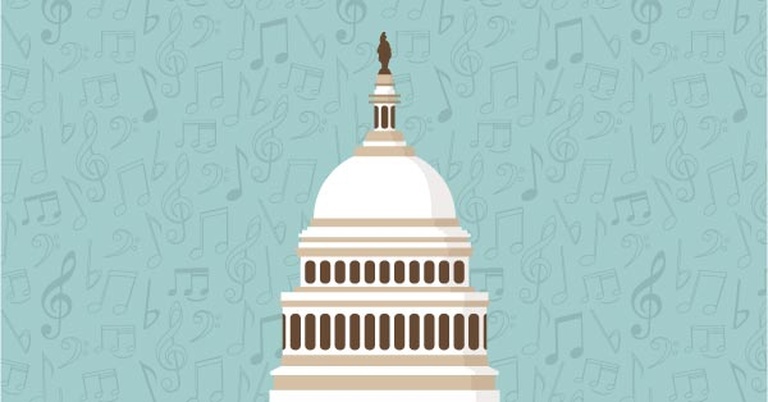 During the week of May 21-25, local area business leaders Ron Manus, Chief Business Development Officer, and Jennifer Paisley-Schuch, Trade Shows and Partnerships Director, of Alfred Music, joined nearly 100 music industry leaders, notable artists, and arts education activists to advocate for all school-aged children to have access to quality, comprehensive school music education programs. As part of the National Association of Music Merchants (NAMM) Advocacy Fly-In, the delegation met with Members of Congress and other policy stakeholders to reinforce the importance of music as part of a well-rounded education.
Ron Manus said, "I am inspired every day by the stories that teachers, students, and parents share with us about their music making journeys and I am so grateful that Alfred Music gets to play a part. It is up to us to ensure that every child who has the desire to learn and participate has access to a quality music education. Because if we don't, who will?"
Jennifer Paisley-Schuch added, "We believe every child should have access to a well-rounded education that includes music. Participating in the NAMM Fly-In is a good reminder that when we advocate what for what we believe in, we can make a difference."
The Advocacy week began on Monday, May 21, with a Day of Service at The Kennedy Center assisting with the D.C. Public Schools Music Festival. Members of the group guided students through the performance process, as well as provided needed maintenance and repair to many of the student's instruments. In the evening, the delegation welcomed prominent news contributor and author Charlie Sykes for an address on the current state of politics in America.

On Tuesday, Manus and Paisley-Schuch prepared for their efforts on Capitol Hill by participating in advocacy training, during which they and fellow music industry leaders were apprised of current issues facing public school music programs and briefed on the Every Student Succeeds Act (ESSA); a landmark in federal education policy, which places more emphasis on a well-rounded education—including music—and gives more decision-making to states and local districts. A variety of policy and arts leaders briefed the group, including the Arts Education Partnership, the Education Commission on the States, the Country Music Association, and Turnaround Arts. At the morning meeting, Music Matters, a new compilation of research was released by the Arts Education Partnership, the Country Music Association, and The NAMM Foundation. The research piece underscores a variety of academic and behavioral benefits such as increased focus, managing and navigating problems, and enhanced memory and vocabulary development than non-musicians.
That evening, Manus and Paisley-Schuch joined The NAMM Foundation in awarding the SupportMusic Champion Award to Representative Suzanne Bonamici (D-OR). The award was presented in recognition of the Representative's tireless work, and strong support of music education, including her lead role in the 2015 passage of the bipartisan ESSA. The Representative is also the founder and co-chair of the Congressional STEAM Caucus (Science, Technology, Engineering, Arts, and Mathematics), a bipartisan group which recognizes the benefits of the arts and sciences in developing critical thinking skills for success in career and life.

On Wednesday, Manus and Paisley-Schuch met with many Congressional offices, including Congressman Tony Cardenas (D-CA-29th), Congresswoman Maxine Waters, and Legislative Aide for Congressman Adam Schiff, Anthony Thiessen, as well as many others from California, including Senator Dianne Feinstein. They also met with another representative from upstate NY, where Alfred Music's Distribution Center is located, to advocate for full funding of school-level music programs across the nation, as stipulated in ESSA, and to discuss the multitude of benefits music education espouses.
Alfred Music is a strong supporter of advocating for access to music education for all children and truly believes that Music Education should not be a luxury—Music Education should be a core requirement. Alfred Music shares NAMM's vision for the world: "We envision a world in which the joy of making music is a precious element of daily living for everyone; a world in which every child has a deep desire to learn music and a recognized right to be taught; and in which every adult is a passionate champion and defender of the right."

---
Want More? Don't miss a beat!
We're passionate about providing music educators with teaching solutions. Sign up to get inspiration delivered to your inbox!
Stay Updated
Want to get the latest updates and special offers from Alfred Music?