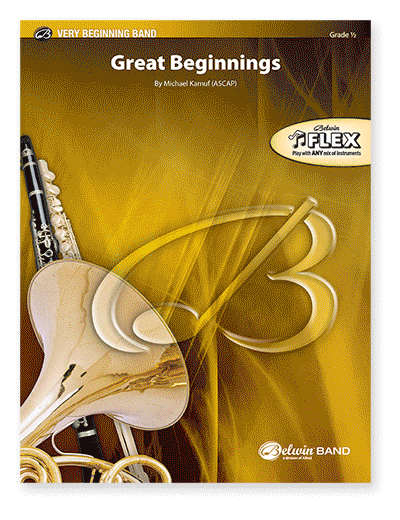 Alfred Music FLEX Offerings
Alfred Music's all new Belwin FLEX and Alfred FLEX offerings contain original compositions, arrangements, and rescored best-sellers in a variety of grade levels to meet the needs of ensembles with incomplete instrumentation—from large ensembles to as few as 4–5 players. Several titles are available in MakeMusic Cloud. Watch our webinar and continue reading to learn the benefits of our FLEX titles.
Learn about Our Strings Only Titles
These pieces and arrangements have complete flexibility of instrumentation which will allow directors to use them for:
Full band
String orchestra
Mix of band and string instruments
Mix of woodwind and percussion
Mix of brass and percussion
Percussion ensembles
Mixed chamber ensembles
Most like-instrument ensembles
What Makes Alfred FLEX and Belwin FLEX Unique?
We spoke with many teachers about their experience with flexible instrumentation music, and did our best to address their concerns in order to create the ultimate easy-to-use and flexible resource.
Solutions:
Varied repertoire—we are providing a mix of concert literature and pop arrangements.
Varying grade levels—we are Including literature at many grade-levels.
Teacher guidance is provided with suggested instrumentation and a teacher map for part assignments. Also, our composers and arrangers were careful to balance their writing help to avoid a lack of clarity, allowing ensembles to sound full and complete.
Thought has been given in providing melodic opportunities for all performers.
String parts have been carefully edited with extra fingerings and appropriate bowings to support students in mixed ensembles and playing in less familiar keys.
Percussion tracks are available as a free download.
Care has been taken to ensure ranges are appropriate for all instruments.
The score has a clean and clear layout that is easy to understand and follow.
Each piece comes with an optional piano accompaniment.
Permission has been granted to make the number of copies necessary for use with your ensemble.
Bowings and fingerings have been carefully edited and marked to help support students and directors.
Varied Repertoire
Alfred Music's Alfred FLEX and Belwin FLEX titles include a variety of styles, including original compositions, arrangements, and pop, so that they can be programmed for any time of year. These newly reimagined pieces are available throughout the Belwin and Alfred Concert Band Catalogs, written by a variety of composers and arrangers, such as Michael Story, Vince Gassi, Douglas E. Wagner, Michael Kamuf, and others.
Varying Grade Levels
Alfred Music's FLEX titles include a wide variety of difficulty levels, from grades ½ through 3+.
Teacher Guidance and Balanced Writing
We have designed a teacher map with each piece that will help to not only guide you to instrument choices but more importantly, provide a way to document who you assign to which part. We provide Flexible Options, Suggested Instrumentation, and Teacher Part Assignment spaces. When this part is lined up with the left score page, the teacher assignments will generally line up with the 4 or 5 parts in the score, so you can refer to them throughout rehearsals or performances.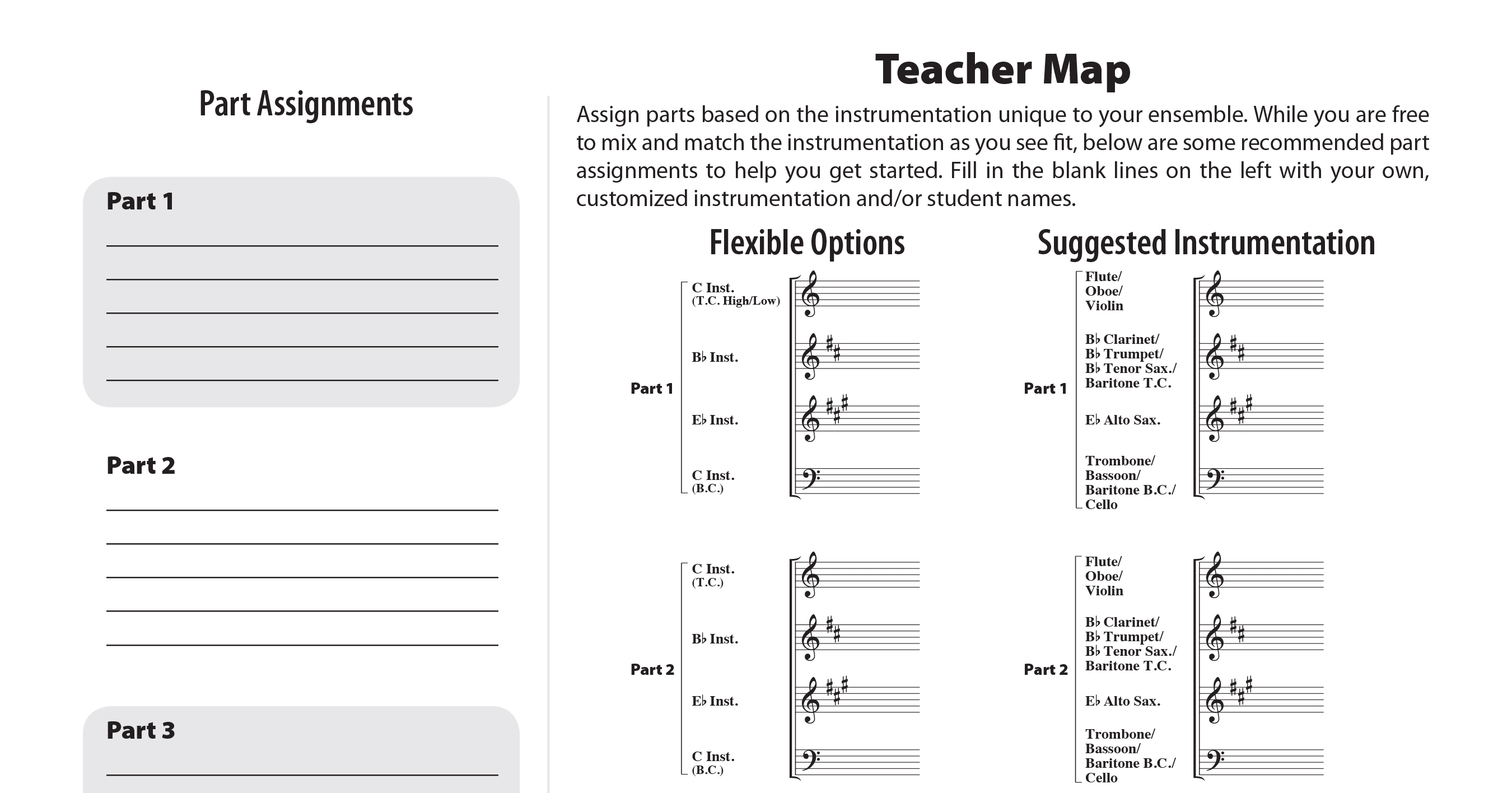 We recognize that while the 5 part score looks balanced on paper, it often is not in the band room. Parts 3, 4, and 5 often have the fewest students, so their parts are often not well represented, making pieces sound unbalanced. To help address that, we added a 4-part model for younger bands to help support the lower parts—having 4 parts will allow more strength in numbers for the sections that are usually lighter in enrollment. We've carefully considered this issue while writing, ensuring balance and reinforcement between parts.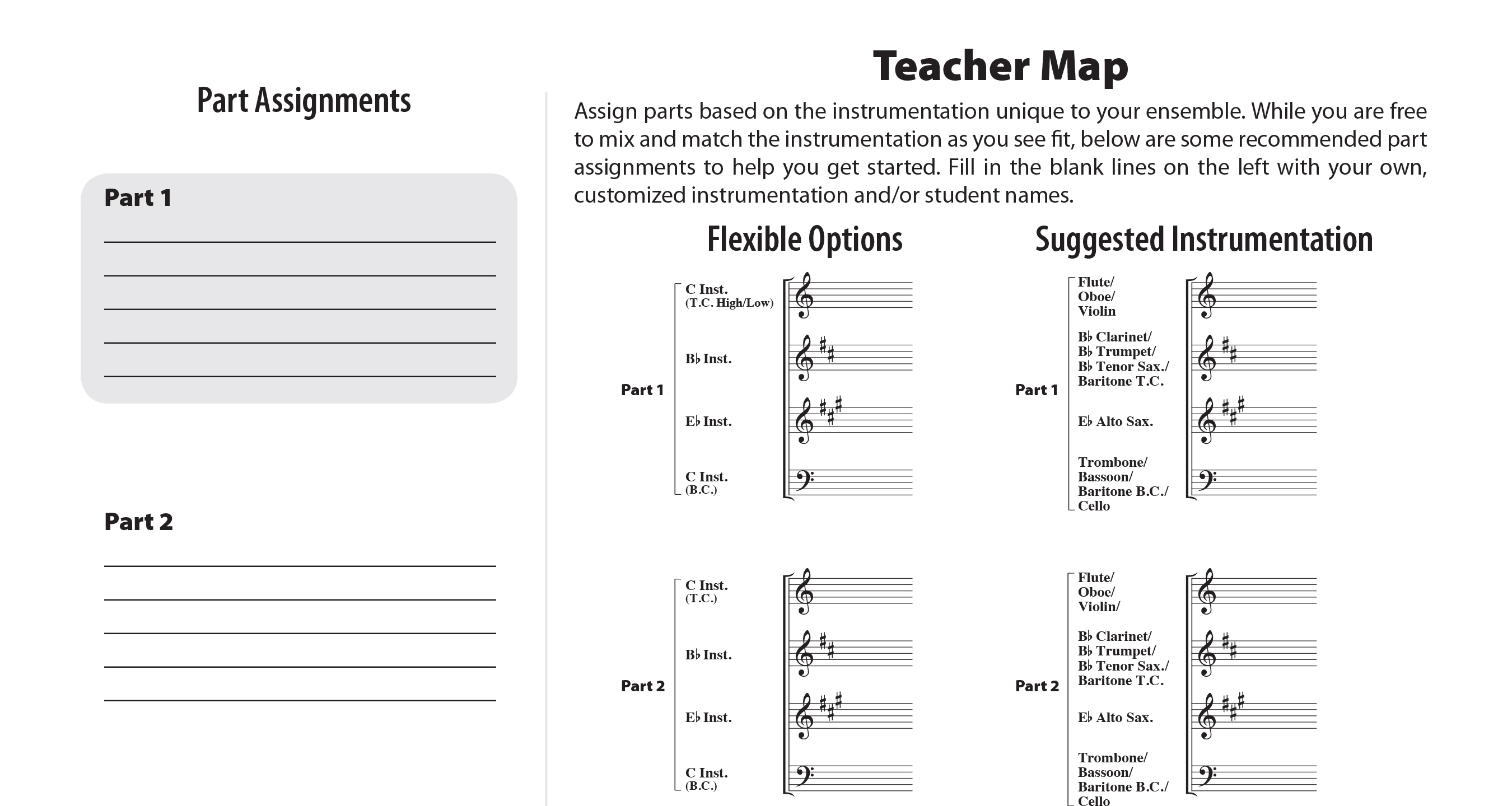 Ranges That Work
We examined each part extremely carefully to ensure the best possible solutions to range issues for various scenarios. For example, some divisi is used so appropriate clarinet parts wouldn't go over the break in the easier levels.
Play With as Few as 4–5 Players
As seen in the video below, Alfred/Belwin FLEX options provide opportunities for making music with like-instrument or mixed-instrument ensembles. Most grade .5–1.5 pieces can be played by as few as 4 players, and grade 2–5 pieces can be played by as few as 5 players.
Clean Layout
We maintained a clean and clear layout with our 4- and 5-part scores and tried to reduce as much clutter as we could to provide an easy to follow score. In addition, the Teacher Map will help you keep track of who is playing what and where! This is how the Teacher Map can line up with the score for ultimate clarity:

MakeMusic Cloud
In addition to addressing teachers' concerns, several of our FLEX titles are available in MakeMusic Cloud, with more being added soon! Now you can transform your students' practice from passive repetition to active learning, and keep tabs on your students while remote teaching. Students will be immediately shown what pitches and rhythms they hit or miss so they know what to work on, and they don't learn their music incorrectly. They can play along to the accompaniment, encouraging at-home practice, while helping you track their progress while teaching remotely.
See MakeMusic Cloud FLEX Titles
Watch the Webinar
These instrumentation options will allow you to use any 4–5 band or string instruments in any mixture to accommodate your specific ensemble needs—whether you're in a virtual classroom, in person, or a hybrid classroom environment! Check out the recording of our webinar and learn how to best use this series to suit the needs of your ensemble this school year!